Welcome to Fin Cop Hillfort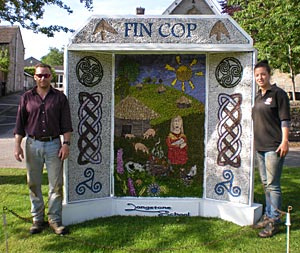 Staff from Archaeological Research Services Ltd standing by the Longstone School Well Dressing which portrays events at Fin Cop
The site of Fin Cop is located on the crest of a steep sided bluff overlooking the deeply incised valley of Monsal Dale in Derbyshire. The hillfort commands panoramic views of the surrounding countryside, and is intervisible with other Peak District hillforts and enclosures, which would have allowed for rapid communication between the sites if they were contemporary.
During 2009 and 2010, a programme of archaeological investigation was conducted by Longstone Local History Group, under the supervision and direction of Archaeological Research Services Ltd, funded by the Heritage Lottery Fund with further support provided by the Peak District National Park Authority and English Heritage.
The hillfort has never undergone scientific excavation; however there are records of previous antiquarian explorations having taken place around the stone burial cairns at the highest location on the hilltop. The archaeological excavations followed directly on from a desk-based assessment, earth work and geophysical surveys.
The archaeological reports can be downloaded in PDF format from the Archaeological Investigations page.
A schools' lesson pack investigating the fascinating archaeology of Fin Cop can be downloaded from the Community Engagement page.