Lanton Quarry - Neolithic
The Neolithic is the name given to the period of the first farmers in Britain who continued to use a stone tool technology.
A large number of stone artefacts were found during the fieldwalking that date to the Neolithic period. A leaf-shaped arrowhead, a chisel-shaped arrowhead and a spear point were amongst the finds.
Stone tools were used extensively throughout the Neolithic period, and the quality of the craftmanship was outstanding. One of the most significant finds was the discovery of a flint cache that was found lying on the surface of the field. On inspection the flints were seen to have been retouched to make knives and other tools which were then used before they were discarded.
During the excavations a large number of pit features, hearths and unusual triangular-shaped structures were found that date to the Neolithic period. A large quantity of Neolithic pottery numbering over a thousand sherds has so far been recovered. Pottery during this period can be surprisingly durable and can survive in buried pits without experiencing too much damage. The residues of food surviving on the pot walls is currently being analysed at Bristol University to identify the type of food consumed in the Neolithic diet.
Ten structures, each consisting of a number of postholes were excavated, as well as a number of hearths, midden pits and isolated postholes. Some of the structures were set out in a triangular pattern and these could be the remains of small houses, possibly used for shortlived periods. The discovery of Neolithic houses is very rare and as the remains of these structures continue to be analysed important new information on Neolithic settlement in northern Britain will come to light.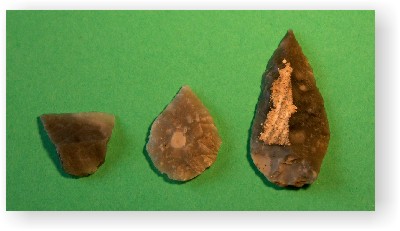 From left to right, a chisel arrowhead, a leaf shaped arrowhead and a spear point that were found at Lanton Quarry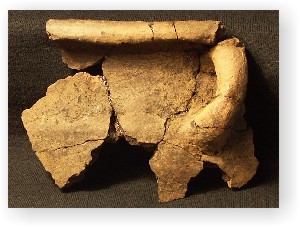 Part of the reassembled rim of a Neolithic pot of a type known as Carinated Bowl with a rare example of a handle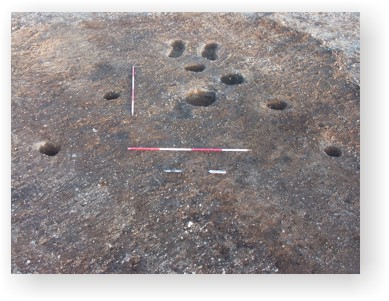 A triangular-shaped structure consisting of postholes, pits and a hearth that contained Early Neolithic pottery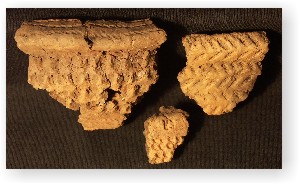 Rim pieces of large later Neolithic Impressed Ware pottery vessels with fingernail and cord decoration